Erkan Historical House-Chen Family Historical House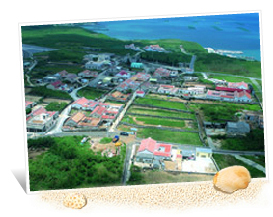 Towards the end of Ming Dynasty, Mr. Chen Yanyi came to Penghu across the sea from Kinmen, came ashore at today's Dachih Village and went into fishery; after his family began to grow, he decided to move to Erkan near Chuwan. In 1820s, it gradually developed into a village, and after the Sino-Japanese War, traditional means of livelihood could no longer make ends meet, so many young people had to leave their hometown and work in Taiwan, the village thus started to decline.
Chen Family Historical House is the top representative for Erkan Historical Houses; built in 1910, Chen Ling and Chen Bang brothers moved to Tainan to run a Chinese Herb Medicine store and became rich, so they came back home to refurbish their old house to honor their family. The grand scale of "Two rows of three rooms and four rooms each on either side (forming a rectangular shape)" makes it the one and only historical house in Penghu, currently listed as National Grade Three Historic Site.
The expert in charge of designing and refurbishing the historical house was only 29 years old then, from Chihdong Village; observing the details of the Chen Family building, you can see that the expert was very creative and also brilliant. His daring use of color, vivid yet elegant wood carvings, painted tiles and stone carvings, the format, the increasing discreteness design from outside to the inside; he followed the traditional methods of residential building, yet it is also very safe, truly making this the representative piece of work of Eastern-Western combination on the island.
| | |
| --- | --- |
| Address | No.76, Jhuwan Vil., Siyu Township |