Cimei Lighthouse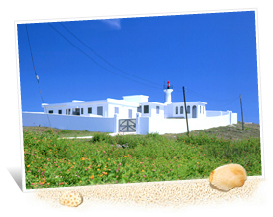 Qi mei lighthouse is situated on the edge of the Qi meiyu south tip in Qi mei Township, Penghu County. Qi meiyu is situated at the south end of Penghu islands, the fifth largest island among the 90 islands in Penghu; it is also the second tallest island, with a height of 66m, just following Maoyu. It has long been the major juncture of Taiwan Strait, as well as the transit stop for immigrants moving from China to Taiwan.

Qi meiyu lighthouse is also called the "Southern Lighthouse", because it is the most southern lighthouse in Penghu islands, and the sailing indicator for boats in the southern seas of Penghu. The tower is white with a height of 8.3m, RC structure, the last tower built by the Japanese in Taiwan.
Since it is designed to be an open-air lighthouse, every year from September to December, when it would get really windy, the lighthouse keeper would have to keep cleaning and maintaining the glass outside the lamp or the crystal glass inside, due to the amount of salt dirt and dust brought about by the wind; it is a very tough job.