Dongjiyu Lighthouse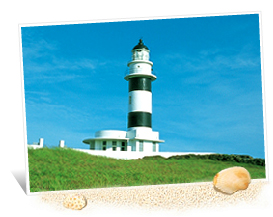 Dongjiyu lighthouse is situated on the edge of the Dongjiyu north tip in Wangan Township, Penghu County. Dongjiyu is 1.7712km2 in area; situated 12.2 nautical miles off southeast of Wangan Island, and 2.7 nautical miles away from Sijiyu. The origin of its name comes from the strong, rapid and hidden currents in nearby waters, "rapid" sounds the same as "lucky" in Chinese (all pronounced as Ji), so the island on the east side of the rapid current is named "dongji" (dong meaning east", and the island on the west side of the rapid current is named "Siji" (Si meaning west".
Dongjiyu is the closet island to Taiwan among all Penghu islands, and was once very prosperous, but with the exhaustion of fishery resources, fewer people are left on the island, leaving behind only the remaining houses, still watching over the island, watching the ups and downs.
The refurbished Dongjiyu Lighthouse replaced its original white columned iron tower with circular RC structure, painted with black and white stripes; the tower is 24.4m in height, completed with a third grade revolving focusing kerosene incandescent lamp which shines every 12 seconds, with the strength of 200,000 candles, and a 21.5 nautical miles range. Dongjiyu Lighthouse is the second lighthouse built on Penghu Islands after Taiwan fell under Japanese colony.