Fishing with Light Event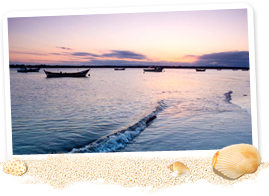 In Penghu, carrying a fishing lantern at night to go fishing in the intertidal zone is locally known as "casting light on the sea (fishing with light)". It is a coastal fishing activity that is carried out all throughout the year, during summer and autumn, "casting light on the sea" can be done during the first half of the night; during winter and spring, it will have to wait until the second half of the night, when the tide would be right to go into the sea. The amount and variety of fishes that can be captured via casting light on the sea is plenty and bountiful, among which is the most renowned octopus.
Capturing octopus is a very important fishery event in Penghu, starting from the Lantern Festival (around February) to the Tomb-Sweeping Day (around April) every year. In order to feed on spawning crabs, the octopus is gradually moving towards the intertidal zone from the deep sea area. The capturing of octopus is just in time to make up for not being able to set out fishing in the sea due to the rise of the northeast monsoon. Such fishing activity has become a leisure fishery experience activity, and the best time to capture octopus by casting light on the sea is on a windless tide-ebbing night.

Local fisheries will ask tourists to put on headlights or use a flashlight, light torches above the dark sea, take hold of a fish fork and start searching for octopus in the intertidal zone; under the artificial light, the octopus has nowhere to hide, once you spot it, take the fish fork and lift up the octopus. Such activity must be led by a professional tour guide in case of accidents; when moving in the intertidal zone, take care not to slip and get hurt, this way, you'll be able to enjoy the fun of fishing at night by casting light on the sea!