Penghu Ocean Fireworks Festival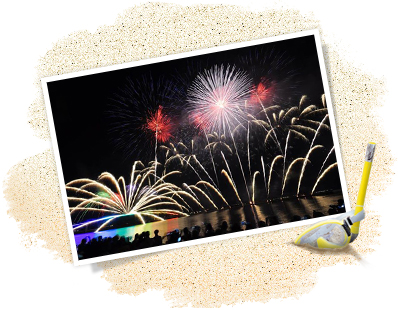 Since 2003, the year the Penghu Ocean Fireworks Festival was held for the first time. This festival has become a tradition in Penghu over the last decade. A splendid view at night that everybody eagerly awaits at Penghu in the summer and is one of the main reasons that visitors choose to stop by Penghu in the summer.
Apart from taking a boat from the main island of Magong, there are four tour routes suitable for visitors:Magong City tour, Huxi tour, Nanhuan tour, and Beihuan tour. All four routes have different scenery , culture, and different ways to be enjoyed. If the visitors wants to get away from the crowds and have a quiet time, Huxi is a route that is close to Magong and offers country charm as well as the chance to hear and watch the ocean waves.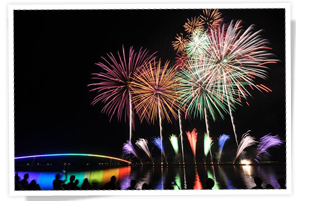 On the Huxi route, walking along County Road 204 various scenic spots can be taken in. Walk along Yimen Beach, playing in the tidal zone as the waves caress your feet, and enjoying the tranquility. Go through Lintou Park, then pass the colored chimney of Jianshan Power Station, Lizhengjiao Beach, Long Men Gu Lang, Guoye Brick factory, and other scenic spots and then stop for lunch at Huxi Village. After lunch visit Nanliao Village to see the old houses and see how the early inhabitants of Penghu cleverly used local stone to build houses. Then go to Beiliao's Kueibi Mountain and walk through the shallows to Chi Islet (tide permitting). Before the sun sets, heads to a place where few visitors venture, Qingluo Beach, and watch the local windsurfers and canoeists show their skills. View the wind turbines of Zhongtun in the distance and the beautiful scene as the sun slowly sets over the ocean.
Event time

Monday、Thursday, April 18-Jun27 , 2019

Additional surprise, May 12

Location
Sea wall, Xiying Rainbow Bridge, Guanyin Ting Park, Magong City
Organiser
Penghu County Government.
Note
The actual number of shows and time will be as announced by Penghu County Government