Animal Ecology
The Penghu Islands may be small in land area, with a total of only 127 square kilometers, but they are scattered widely on the sea and surrounded by an abundance of marine life. Besides common fish, shellfish, and crustaceans, there are also quite a number of protected species such as dolphins, green sea turtles, and terns that constitute treasures of Penghu animal life.
The Penghu Archipelago consists of nearly a hundred islands and reefs of all sizes scattered in the middle of the Taiwan Straits. They are situated at the hub of East Asia's navigation routes, and are a vital stopover point for birds migrating through the region. During the migration season, large numbers of birds come to nest and breed, or to have a short rest, on the various islands of Penghu.
Migrating birds are most plentiful in Penghu in the January-April period, which brings a peak in both numbers and species. The numbers start declining in May and the number of migratory species reaches its minimum in June and July. Migrating terns are a special sight in Penghu's bird ecology, and the favored model for bird-watchers. During the autumn and winter months of September through December birds fly south to avoid cold weather, and bird-watchers can see large numbers of Brown Shrikes, Blue Rock Thrushes, Great White Egrets, Green-winged Teals, Common Sandpipers, and other migratory birds passing by Penghu.
A Penghu bird survey taken in 2003 identified 317 species. In addition to the water birds that are commonly seen on the main islands, terns are the favorite of bird lovers in the summer season. The most common of these are the Common Noddy, Black-naped Tern, Roseate Tern, Bridled Tern, Little Tern, and Crested Tern.
The most common birds on Penghu, and the most numerous, are the resident Tree Sparrow and Lesser Skylark. The species are slightly different from those found on Taiwan proper; they are, in fact, sub-species. The Lesser Skylark has been proposed as the Penghu county bird.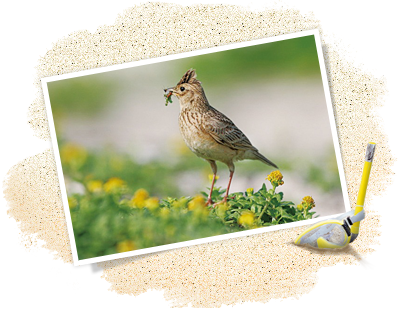 The habitats of Penghu's water birds encompass the coastlines, intertidal zones, and reservoirs. Resident birds and migrating land birds live in the windbreak forests and farmlands, and around reservoirs. In the North Sea area, the favored bird habitats are Big and Small Mao Islets and the nearby Wuren Islet, where most of the tern species nest and breed. In the North Sea area, human development and interference have forced tern species to move to Jishanyu, Dinggouyu, Xiaobaishayu, Pengpeng Beach, and Niaoyu in the northeastern part of the area in recent years.