Siyu Western Fort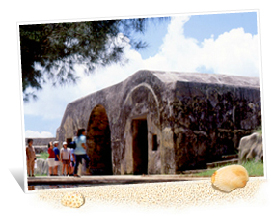 Siyu Western Fort was refurbished by Liu Mingchuan in the Ch'ing Dynasty. In 1884, Sino-French War rose, and French commander Courbet led the Far-eastern fleet to attack Taiwan and Penghu, Penghu was taken down and Taiwan was endangered, luckily, Liu Mingchuan fought to the very end and saved Taiwan. After the Sino-French agreement was made, Liu Mingchuan planned the defense in Taiwan, and asked to place an army chief in Penghu to reinforce Penghu defense.
Back then, they built four forts outside the current Waian Village in Siyu Township, Penghu County, these forts were of large-scale and experienced great difficulty in construction, finally completed in July 1888.
The Siyu Western Fort is an indented structure, surrounded by walls on all four sides, stones are piled into an altar inside the walls, a fort is established on the altar, and tunnel camp beneath the altar. The entrance has two arched gateways, with "Siyu Western Fort" written across the top. This fort is now the most well-preserved large old fort of tremendous historical value in Taiwan.
| | |
| --- | --- |
| Admission | NT$30 per adult; NT$15 per half-price ticket; NT$25 per group |
| Address | Go along County Road 203 for approximately 1 hour to arrive there. |
| Opening Hours | 08:00-16:30 |